Yakshi is a playable character for Go All Out, an Original Character who is a long lost shadow warrior that fought in the Great War on Cadread.
Backstory
[
]
Pre-Awakening
[
]
Yakshi was born on Cadread over 1000 years ago and fought during the Great War on Cadread to defeat Calamity in his first form.
However, he failed during his fight and was trapped in a broken dimension that Calamity caused.
Awakening
[
]
Many years later, when Calamity had woken up, Yakshi woke up as well. He escaped the broken dimension, found other warriors that the lights brought to Cadread, and now he wants to find and fight Calamity once again.
Appearance
[
]
Yakshi has no hair on his head, he is bald and his eyebrows are covered by goggles. He has a scar on his left eye and wears black and red vision goggles.
Yakshi wears a black blazer suit with a red shirt and a black tie, He also wears light grey pants and black shoes.
He fights duel wield with two metal batons which he named Gaia & Kobold, one red and another grey.
Colors, Costumes and Equipment
[
]
Click here to view Yakshi's Colors
Click here to view Yakshi's Equipment
Showcase video
[
]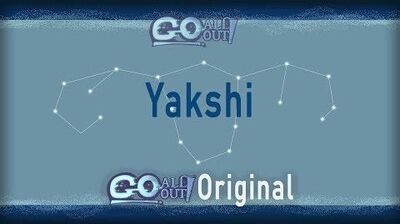 Combat Moves
[
]
(Shadow Warrior Style)

[

]
Lvl1 – Tornado Blade
Yakshi dashes forward and creates a helicopter spin on the side, dealing anyone near him, then retreats back to where he was.
Lvl3 – Warrior's Finish
Yakshi grabs a fighter, pushes them upwards and starts attacking them with multiple moves until the final strike where he kicks them downwards, pushing them back to the ground. This move only works if Yakshi successfully grabs a fighter.
Trivia
[
]
Yakshi was announced in the new fighters trailer on January 9th 2019, alongside Teslakid, Lord Clonington and Yandere-Chan
Yakshi is the fifth GAO Original character to be in the game
In early concepts, Yakshi would fight with a sword, however this was changed to duel wield batons
Yakshi seems to be the only fighter in Go All Out who is a Cadread native and is in any way connected to Calamity, the main antagonist of the game (if you exclude the Cadread natives).
Gallery
[
]