Upcoming Fighters
This is the Upcoming Fighters page, where we record hints that BlueSunsetGames give us.
As far as we know, there are a total of
Lord Clonington (World to the West)
Baron (GAO Community made character)
Defender Girl (Planetary Defense Force)
Stardrop (Stardrop Blaster)
6th Original character
Horror character
Big Game Character
7 Upcoming characters in total that are going to be in the game.
Support Characters
here is the known Support characters so far:
Upcoming Character(s)
BSG has hinted of an upcoming character, which is either a quote or something that this character says:
'Silently speaking to you... I am here... but at the same time I am not'
---
another hint was also made:
'He's not really on ground'
it's unknown if this character is connected with the first character, the other upcoming unknown characters or if it's a new character, but we know that the character is male
Horror Character
BSG had said that a horror themed character will be in GAO in 2020, followed by a stage
there have yet been any more infomation
Big Game Character
BSG has signed to add a new character to GAO, there isn' much about the character or the game they're from, but according to them, they're a big character from 'one of those games that sold over million copies and most likely be from a game series.
there have yet been any more information or if there's any other connection towards other hints for upcoming character, but more infomation about this character will be told in September
Mystery Image
BSG had shown a couple of images that hints of upcoming characters, it's unknown if they are fighters or supporting characters and haven't shown more information about these images for now
Original character
BSG has shown a new original GAO character for the game that's going to become a fighter.
not much is known for this fighter other than the image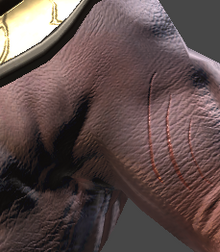 Djinn
an original supporting character has been revealed, a demon named 'Djinn' is going to be a supporting character, not much is known about the character or how he's going to be used, all we know is that he's an assist character that will be summoned and used for a purpose during a fight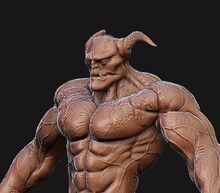 Known Negotiations
Negotiations/talks between Square-Enix, Epic Games, Namco Bandai (again), Akupara Games and were made at some point/ or are currently in negotiations but it's unknown if there will be characters from those companies in Go All Out!
BSG is trying to get an anime rep that Bandai Namco has the gaming license for, but there's no guarantee
TV shows characters are in BlueSunsetGame's mind but it's unknown from what company/franchise or if there will be any at all.
BSG almost have a chance to get a character from Walt Disney animations, however there's it's a chance and no guarantee that it might happen, and it won't be earlier than Q4, though according to BSG, it might be a character from the 90s era
BSG has confirmed that they have 3 AAA characters that could potentially be in GAO, though it depends entirely on sales once the game is on the Nintendo Switch