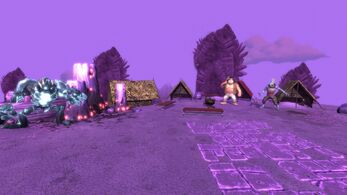 Cadread
Planet Cadread - this is a centric place of the game. The place can be found by entering "World Hub" from main menu.
This is where all fighters are during events of the game.
Original Stages
Go All Out! feature original stages that have origin on Cadread (game's story place) and stages from other parts of world.
Guest Stages
Stages that have their origin in other games or media (comics/movies).
Rumored Stages
Kayko & Kokosh stage was teased on discord in October 2018 it's going to be a fully drawn comic-like stage
another stage is also teased on discord, which is a stage based on an indie character who's also going to be a fighter for GAO, the stage will have hazards that would effects the player's movement.
Trivia
according too BlueSunset Games, Pillar and Blue Towers are the only stages that are actually on Cadread, the rest of the stages are from other worlds but the fighters are technically fighting on Cadread, as these stages are simply mirages representing the fighter's worlds.
it's unknown how time passes in Cadread