Lady Scarlet is a playable Fighter in Go All Out! a supporting character from Oscar Brittain and Akupara Games, Desert Child
Lady Scarlet comes from a futuristic world where humanity managed to colonies and live on the planet Mars, Lady Scarlet is a known racer who often chills and relax, having an easy and straight forward life.
in the time of 'Desert Child' when Scarlet was driving her bike on the desert of Earth, she found a young Rider who has the same model bike as her. She challenged him to a race and the Rider managed to win, despite his engine puffing out black smoke. After the race, she gave some useful tips for the Rider on how to get into the big leagues of racing, before diving off and heading back to Mars.
she was in the middle of a race when she was caught by a bright light, right when she crossed the finish line. She found herself on Cadread and learn about what's going on, she decided to join the fight, but also chill while wating for the final battle against Calamity.
she also became friends with Erica, who likes her hoverbike
Lady Scarlet apperance is very different than her original game, mainly showing her appearance in a 3D environment since Desert Child has a pixel 2D style with no faces, with her outfit being the same aside from her sunglasses, which has orange lenses instead of black.
Lady Scarlet facial features has her wearing orange and black sunglasses with long blonde hair, Scarlet also wears a red jumpsuit and black boots
Scarlet rides on a hoverbike which is coloured red, unlike the colour she had in game, which is blue (though it's an optional colours in the equipment section).
Colors, Costumes and Equipment
[
edit
|
edit source
]
Click here to view Lady Scarlet's colors
Click here to view Lady Scarlet's Equipment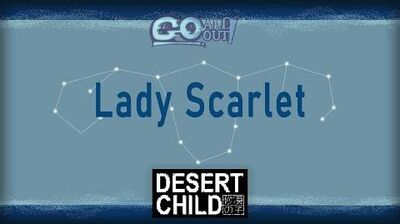 Special attacks:
(Racer Style)
Lvl1 - Biker Combo
Lady Scarlet jumps forward to try and grab another fighter, if successful, she will create a three hit combo that puts the fighter in the air, first hitting them with her bike, then putting them up to the air, and finally shooting them while in the air
Lvl3 - The Ex-Wife
Lady Scarlet jumps on front of her bike to shoot the 'Ex-Wife' Railgun, creating one long ranged singular line that creates great damage and knockback to anyone hit by the long line.
Lady Scarlet is the 8th third-party character to join Go All Out, being announced during an Impact Direct video on March 2019
However Scarlet was announced to be in Go All Out before Zorro
She is also the third female character in Go All Out, the others being Erica and Yandere-Chan
Lady Scarlet is the first fighter in GAO to have a GAO finisher where she doesn't kill anyone. but rather relax on her bike with the text reading 'Just Chilln'!!!' on the top of the screen
Community content is available under
CC-BY-SA
unless otherwise noted.